Rent a 4×4 for Your Journey in Namibia
Hit the road to discovery in Namibia in a quality rental 4×4 from Drive South Africa. Our smooth and simple online booking process makes it easy to compare and save on rental 4x4s so you can start your epic road trip with no fuss.
Available 4×4 Rental Options
Drive South Africa offers a massive range of reliable 4×4 rental vehicles. Pick and choose from our well-maintained fleet of popular models like the Ford Ranger, Toyota Double Cab, Discoverer FunX, and Toyota Landcruiser.
Benefits of Renting a 4×4 in Namibia 
When you rent a 4×4 in Namibia you're unlocking all the freedom and flexibility that comes with it. Explore Namibia at your own pace and discover the convenience of traveling in a rental 4×4. It really is the best way to get around on your epic road trip. Looking for a 4×4 rental in another country? We offer 4×4 rental in South Africa and 4×4 hire in Botswana too.
How to Rent a 4×4 in Namibia
Book your 4×4 online and one of our agents will call or mail you to confirm.
Provide documents such as your passport, voucher, driver's licenses, and the main driver's credit card.
Familiarize yourself with our specific terms and requirements, as they may vary regarding additional ID, accepted payment methods, and driver's license validity
Useful Info About Renting a 4×4 in Namibia
Remember to drive on the left side of the road
Pay attention to posted speed limits
Drive with your headlights on during reduced visibility.
Parking options include metered street parking, public lots, and shopping center garages.
Popular attractions to visit in your rental 4×4 in Namibia include Etosha National Park, Spitzkoppe, Sossusvlei, and the Fish River Canyon.
Where to Stay in Namibia
Windhoek
This is the biggest city in the country and has the widest variety of accommodation facilities, from self-catering guest houses to lodges and hotels, you really won't have any issues finding a great place to stay in Windhoek. 4×4 hire in Windhoek will let you explore more than just the capital.
Swakopmund
This is a popular destination for those wanting to experience the vastness of the Skeleton Coast. You won't have any problem finding great places to stay in Swakopmund. You can even hire a 4×4 in Swakopmund – Drive South Africa has a pick-up and drop-off location in Swakopmund City Centre.
Etosha National Park
Etosha's defining characteristic is a salt pan so large it can be seen from outer space. Abundant wildlife congregate around waterholes, giving you almost guaranteed game sightings. Etosha is malaria free and the rest camps provide a range of accommodations, as well as restaurants, viewing decks, shops, and petrol stations. Luxurious camps in Etosha's more remote areas have added top-end accommodation to the park's offerings.
In and Around Namibia
There really is so much to explore in Namibia, from the coastal German-inspired Swakopmund, to the shipwrecks of the Skeleton Coast. Then there's the abundant wildlife of Etosha National Park. The Sossusvlei features brightly lit yet almost ghostly dunes, which are great for exploring in a 4×4.
How Long Should You Stay in Namibia?
There really is a lot to explore in this magical country, so anything less than two weeks wouldn't be sufficient. You're going to want to get out there and drive in the many off-road locations that the country is famous for. However, if you want to camp and truly experience this fascinating destination, three weeks is suitable.
What to Pack
Going on a self-drive safari or adventure anywhere in the world means that you will be going to some remote places where people may not be around to help you. On top of the normal things you'd take when traveling, it's also good to pack a few essential extras. These include as much water as you can fit in your car, a spare tyre, a first aid kit, tow rope, a shovel and jumper cables. Ask us about our fully equipped rental 4x4s.
Book Your Rental 4×4 in Namibia Today
Comparing, saving, and booking your rental 4×4 is easy with Drive South Africa. Experience excellent customer service, flexible rental options, and the road trip of a lifetime in Namibia.
Other Vehicle Rental Options
Looking for alternative vehicle rental options? Have a look at our Namibia car rental options and Namibia camper rental options.

Our Recommended 4×4 Vehicles for Namibia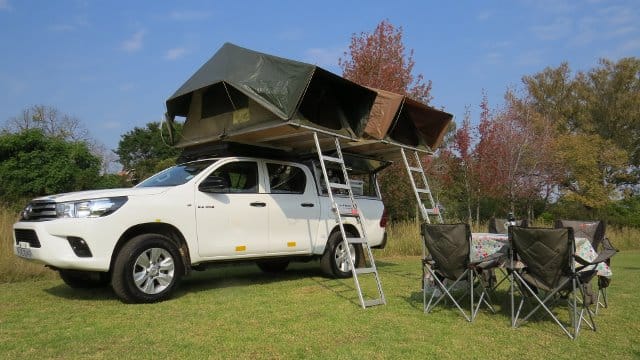 Toyota Hilux 2.4TD 4×4 Camp
A reliable and capable 4×4 vehicle that offers excellent fuel consumption and good off road performance. Good ride height ideal for game viewing. Equipped with a roof top tent.
Toyota Landcruiser 79 S/W 4×4 Camp
The Toyota Landcruiser is a very robust, reliable and exceptionally capable 4WD vehicle. A highly respected safari vehicle in Africa, with no electronics and ideal for remote area travel.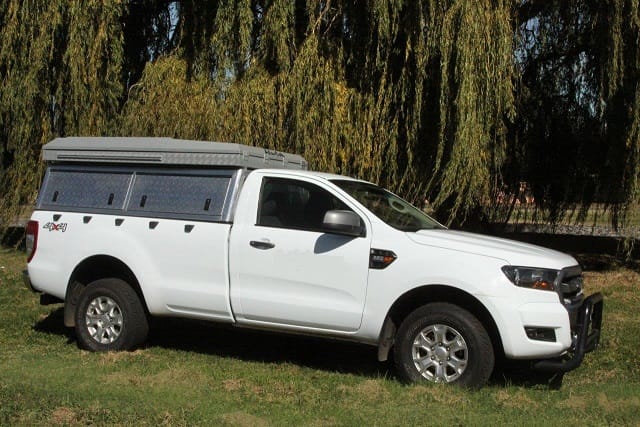 Ford Ranger Single Cab 4×4 Safari Overlander
This Single Cab Ranger camper seats 2 adults. Perfect for a self-drive safari. It has a powerful diesel engine. It's a tough pickup truck capable of turning troublesome obstacles into an exciting adventure.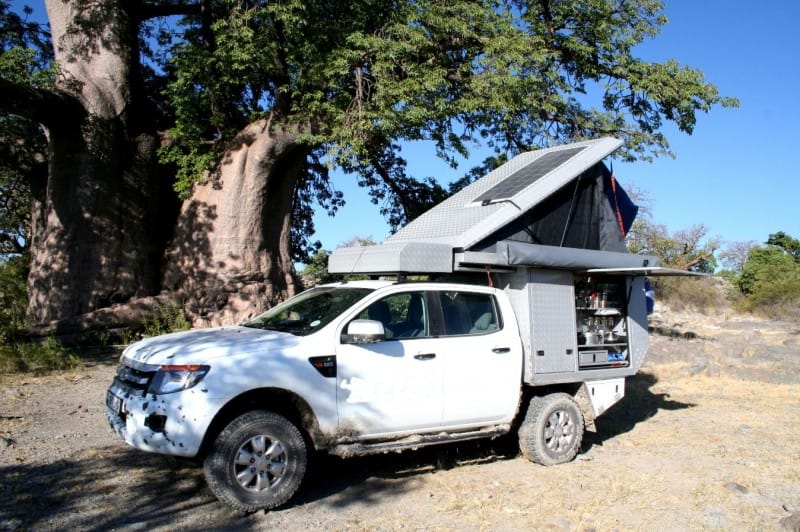 Ford Ranger D/Cab 4×4 Bushcamper
Superbly compact 4×4 camper suitable for up to 4 adults. Fully equipped with camping equipment. This is the vehicle you want on your African 4×4 adventure.
Is renting a 4x4 necessary in Namibia?
Yes, renting a 4×4 vehicle is strongly advised when in Namibia. Gravel roads make up 90% of the roads you travel on. Although you won't use the 4×4 option on all roads, the vehicle's high ground clearance and all-terrain tires will make the drive more enjoyable. When you drive a smaller car on a gravel road, you're more likely to get underbody damage.
What tyres do your rental 4x4's use?
All of our cars come with high-quality tyres that are ideal for off-road driving or long-distance travel.
What are the rental requirements for Namibia?
You will not need an international driver's license if your driver's license is in English and has a photo of yourself on it. You will need an international driver's license if your driver's license does not match the aforementioned standards.